SINCE YOUR HAIR ISN'T EXACTLY LIKE YOUR FRIENDS' OR ANYONE ELSE.'
I dive a little deeper to discover what makes your hair unique and how your hairstyle fits your lifestyle.
WHAT TO EXPECT AT STUDIO BALAYAGE
A detailed consultation
Hair color created specifically for your hair type 
Balayage placement designed for your look.  
Color Correction to compliment your features
WHY SHOULD YOU TRUST MY SERVICES
I'm Eda; I have 17 years of experience as a customized hair colorist. I excel with color formulation and advanced signature balayage techniques. I have been honored to work on a couple of local movie sets in Michigan and on Hollywood stars & influencers, including Amy McCarthy, Corrina Roshea, and Jack Nasser. You may have seen me and my work featured on FOX2 News Detroit on multiple occasions.
During my business journey, I had the opportunity to serve our community by delivering the best balayage in Michigan, the most advanced balayaging techniques to complement your look that will last weeks, even months to come. 
Eda did a wonderful job. She really made me feel welcomed by listening to what I wanted. She was honest about the time it would take, and provided a cost upfront, so there weren't any surprises. She is very friendly and professional. I love how my hair turned out, I feel beautiful. Thanks Eda!!

Amanda Erwin
Eda is a true Artist! She throughly explained the process from start to finish. I have been getting my hair highlighted for over 25 years and I have never had anyone actually do what they say. Before I saw Eda, I went to a very reputable salon in Sterling Heights on June 23rd and the stylist over processed and damaged my hair, it has been breaking and snapping off over the last several weeks. I thought I might have to shave my hair off..I was so upset...Few weeks later I knew I had to search for another stylist and pray that they knew what they were doing. When I met Eda, she was extremely honest and told me my hair was fragile, damaged and would have to cut at lease 2-4 inches off everywhere. (As you can see in the Before pics). She was so careful throughout the process. Eda said it may take two sessions to achieve the color I want.. I was so amazed at the end result , (Pics don't do it justice) I almost started to cry. She saved my hair, made me feel like me again! I will never go anywhere else! I can't wait to have the next session! Thank you from the bottom of my heart Eda, I feel like my hair is pretty again! XO

Dawn McNabb
Ada is highly skilled and truly an artist. She did an amazing job on my balayage from the first appointment. Before seeing her, I had been to two different salons and three different stylist for several appointments each over the last year and a half, and yet could not get the right shade of balayage for my dark hair. Ada talked to me and listened to what I wanted. Very happy with the results! Highly recommend her, she is amazing!!!

Anne Campbell
Thank you for visiting my online balayage salon! I am so excited you're here! 💖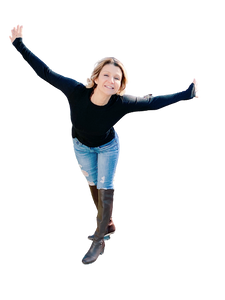 PHILOSOPHY
Just because you see gray in your hair doesn't mean you can't create a low maintenance look, looks seamless, and has dimensions with super shiny balayage highlights! Yes, girl, you can have it all!! 🙌
Discover Your Youthful Glow at the Best Balayage Salon in Michigan!
As we age, it's natural for women over the age of 35 to notice changes in their skin and hair. The once radiant, natural glow may start to fade, leaving the skin and hair looking pale, dull, or worn-out. This is where the term 'youthful glow' truly makes sense.
Dull hair is often one of the earliest signs of aging, and while we may experiment with different elements and products to recapture that freshness and youthfulness, having a professional hair stylist by your side is the ultimate defense.
At Studio Balayage Michigan Salon, my speciality is in balayage for women of all ages. Whether you're searching for 'brunette balayage near me' or 'blonde balayage near me,' my proficiency in color and balayage can revitalize your hair, enhance your natural beauty, and bring back that youthful glow.
Book your appointment today and experience the magic of balayage in Michigan with the best balayage salon around
My aim as your stylist is to transform your hair, ensuring it shines as the best balayage salon in Michigan. I specialize in changing harsh and brassy highlights, transforming them with a softer, more lived-in appearance. By skillfully adding dimensions, I'll make your hair color truly stand out in all the right ways.
As a Balayage master and hairstylist, I excel in the art of crafting natural-looking hair color through the exquisite techniques of balayage and foilayage. If you've been searching the web for the 'best balayage in Michigan' or the 'best hair color salon near me,' your search ends here. You've discovered the expertise you've been seeking. For your ultimate hair transformation, hover over to Pricing page and schedule an appointment at our premier Balayage hair salon in Birmingham, Michigan today.
Hello, I'm Eda! If you're curious to learn more about my journey and how I became a hair colorist, click HERE